Engaged, active and long-term
ICA-handlarnas Förbund (the Association of ICA Retailers) is the long-term majority owner of ICA Gruppen with an ownership stake of 54 %. Our ambition is to ensure that ICA continues to develop in a positive direction and that we work continuously to ensure that ICA Gruppen, its shareholders and the ICA stores benefit from strong, long-term and stable growth.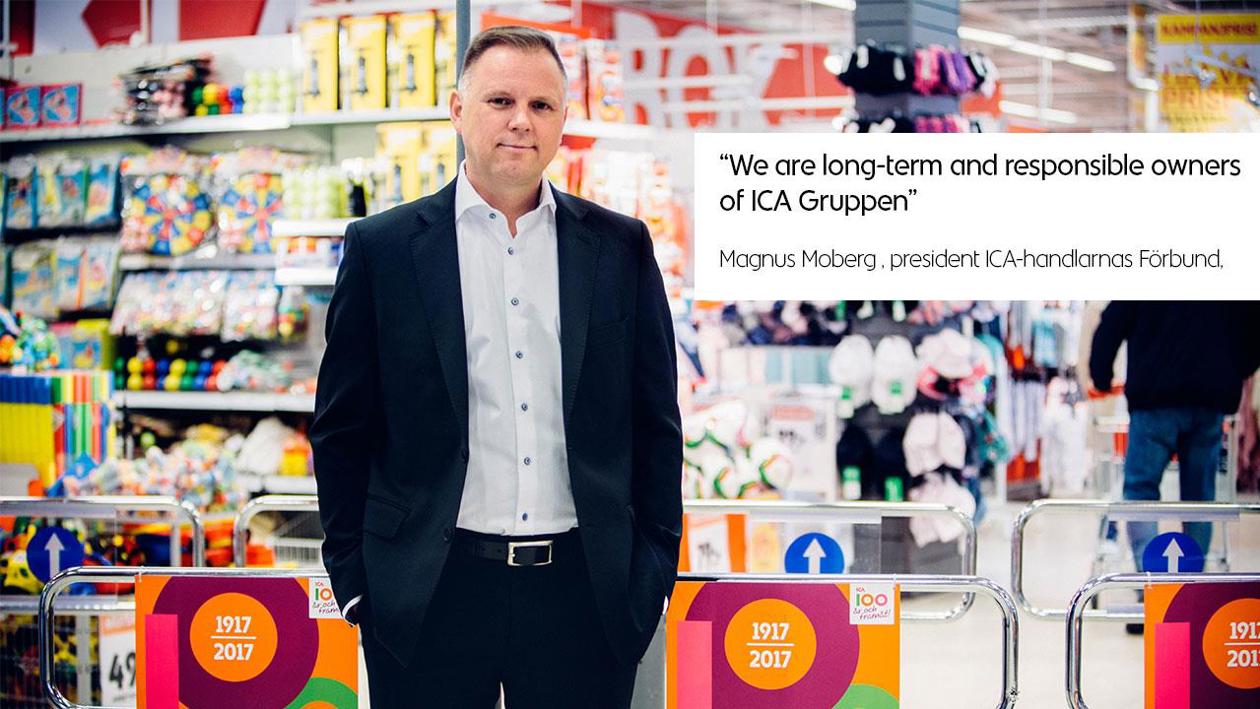 According to our Articles of Association,ICA-handlarnas Förbund shall always own more than 50% of the shares in ICA Gruppen. 
ICA Gruppen is one of the Nordic region's largest retail companies, with more than 30,000 employees in its Swedish and Baltic operations. In addition, the ICA retailers in Sweden employ an additional more than 50,000 people in their stores. This creates an enormous sense of pride. But it also carries obligations.
If things go well for the ICA stores, then they also go well for ICA Gruppen. Good sales growth and profitability at stores generate royalties and profit shares for ICA Gruppen on top of its profit margins from product supply, for example. This contributes to ICA Gruppen's profitability and thereby to long-term sustainable business. Grocery retail is – and will always be – ICA Gruppen's core business. All businesses within ICA Gruppen are to deliver plans that strengthen the core business.
We will never give up our majority ownership. It is for this reason that we take great responsibility and advocate for decisions that we know will leverage the greatest impact on the ICA system over the long term. Long-termism permeates our corporate governance model. We maintain a perpetual 100-year perspective that starts anew every day – moving on to tomorrow, a year, and 100 years. This long-term view also involves striving for continuous improvements in the near term. ICA aspires to always be better and to give consumers and society more.
"A unique model"
ICA-handlarnas Förbund's core mission is to preserve, develop and strengthen the principle that forms the foundation of ICA. We call this the ICA Idea – which is a unique model entailing that the ICA retailers own and run their own stores while benefiting from access to economies of scale and a shared brand. ICA Gruppen's Articles of Association also state that the company shall maintain, develop and strengthen the ICA Idea. 
We feel a great sense of responsibility to steward and build upon everything that earlier generations of retailers and ICA employees have built up with the help of our hard work, courage and vision.
ICA Gruppen benefits from being a listed company (Nasdaq Stockholm, Large Cap), which gives the company external and broad-based ownership. It contributes to transparency and competitiveness and provides access to venture capital. Our presence on the stock market also opens opportunities for many others to have a stake in a successful company with long-term aspirations.
The grocery retail sector is constantly developing and evolving, and we update our action plan for ICA Gruppen every year. We believe that the mere fact that we – as a member organisation with industry knowledge and proximity to the daily business – are the majority owner of ICA Gruppen is yet another assurance for ICA's continued success. Of course there are – and will continue to be – challenges along the path forward. But with a successful history behind us, a stable financial platform to stand on and a long-term plan, we feel security, self-confidence and courage.
ICA-handlarnas Förbund has a stable financial preparedness to be able to inject capital if needed and be a responsible owner. Here you can read more about our asset management.